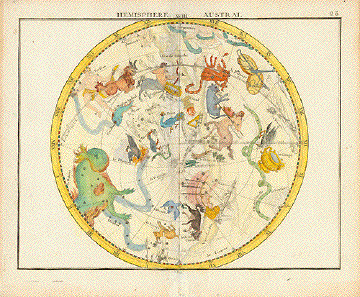 "Hemisphere XVIII Austral"
Type of print: Copper etching
Engraver / Artist: Anonymous
Color: Hand coloring
Publisher: John Flamsteed (1646-1719)
Published: Atlas Celeste (Plate 23)
Where / when: London,1753
View of southern sky star formations
Image: 17,5 x 22.4 cm (ca. 6.9 x 8.6")
Page size: 17,5 x 22,5 cm (ca. 8.5 x 8.9")
The vertical centerfold has been reinforced. Light browning of margin edges.
Repair in lower margin on centerfold. Overall light age toning.
Order Nr.CELESTIALMAP238835 SOLD