Antique Maps of Taiwan
Sale! Discount!
50% Discount on All Maps with a TAIWANMAP number on this page!
Take 50% off the listed price. !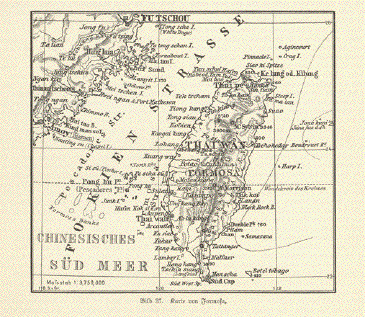 "Karte von Formosa"
Wood engraving ca 1895. Reverse side is printed.
Overall light age toning.
12.7 x 14 cm ( 5 x 5.5 ")
$ 50.00
Order Nr. TAIWANMAP240818
---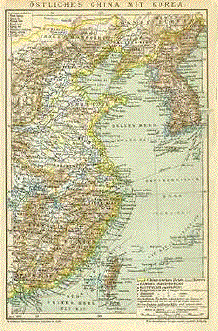 "Oestliches China Mit Korea". Wood engraving printed in color. From F.A. Brockhaus' Geogr.-artist Anstalt in Leipzig. Dated 1896.
Map reaches westward to the Shansi and Hunan provinces. In the lower left is Macao and Hong Kong and towards the lower center is Taiwan. South of Korea are a few Japanese islands.
Left margin is very narrow. Map is clean and the overall condition is Much Better than Good.
21.8 x 14.2 cm ( 8.5 x 5.6 ")
$ 85.00
Order Nr. CHINA1744
---
---