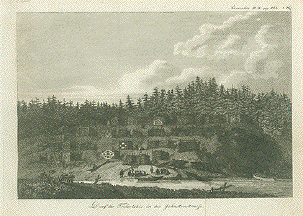 "Dorf des Tscheslakis in der Johnstonstrasse". Native American village on Johnston Strait, British Columbia.
Anonymous aquatint. Published in Captain Vancouver's travels. German edition. Berlin, 1800
Johnston Strait is located between the east coast of Vancouver Island and the mainland of British Columbia, roughly form Rock Bay to Telegraph Cove.
Fold-out engraving with two vertical folds to fit book size. Upper right has text print impression in sky from opposite text print page.
15.8 x 23.3 cm (6.2 x 9.2")
$ 100.00
Order Nr. CANADA22420