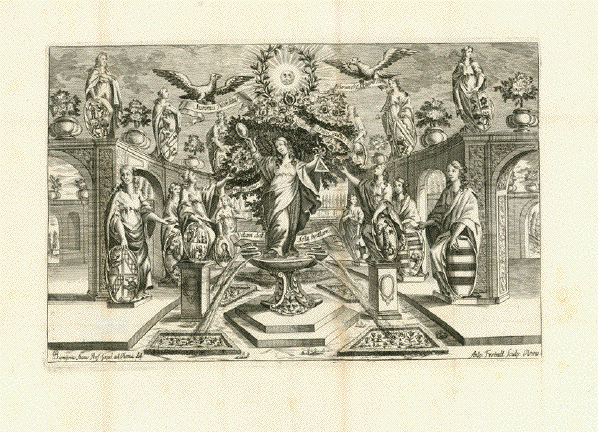 No title.
In the ribbons: "Summa nobilitas clarum esse virtutibus … - Dulcis qzuitturi - Fructus ejus - Vitam dat sola beatam"
Copper etching by Anton Freindt (1664-1727)
After the drawing Dionysius Straus, S.J.
Olmuetz, Czech Republic, (today Olomouc), ca. 1700
In 1566 the Jesuits arrived in Olmuetz (Olomouc). They founded a Jesuit college, which was raised to university level in 1573.
Most likely the woman-figure in the fountain represents Sapietia (Wisdom), indicated by the mirror in her hand and the snake around her arm. In her left she is holding a triangle symbolizing the eye of God in eternity (per omni a secula seculorum)
Print has several vertical folds to fit small book size and a few creases.
Strong good imprint.
Image: 19 x 29,5 cm (ca. 7.5 x 11.6")
Sheet: 29 x 27 cm (ca. 11.4 x 10.6")
$ 200,00
Order Nr. JESUIT243560