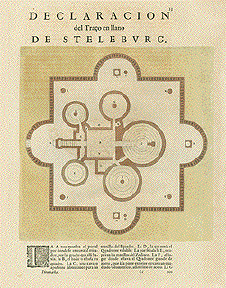 Declaracion del Traco en llano de Steleburg.
Copperetching by Joan Blaeu (1599 - 1673) in original hand coloring (2 tones of brown).
Plan of Steleburg, Tycho Brahe's (1546 - 1601), Danish astronomer, astrologer and alchemist, research institute on the island of Hven (belongs to Sweden).
Clean, well preserved. Ground color a little flaked off on right side. Print on backside is Spanish (showing through slightly, but not disturbingly).
26.5 x 26.5 cm (10.4 x 10.4")
$ 360.00
Order Nr. DENMARK3871