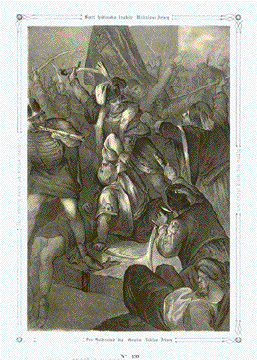 "Der Heldentod des Grafen Niklas Zriny"
Death of Count Niklas Zriny (Zriski)
Zrinski was an old Croatian- Hungarian nobility family
Nikolaus Zrinski poet and imperial general died 1664 in a battle against the Turks
Toned lithograph.
Published in "Vaterländische Bilder-Chronik aus der Geschichte des österreichischen Kaiserstaates" by Anti Ziegler. Vienna, 1846
Very good condition.
22,3 x 15 cm (ca. 8.8 x 5.9")
$ 70,00
Order Nr. CROATIA248783