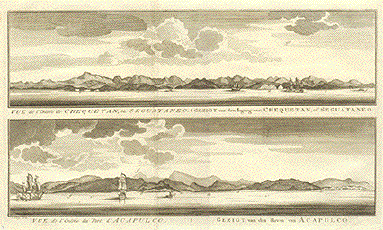 Upper image: "Vue de l'Entrée de Chequetan, ou Seguataneo. Gezigt van den Ingang van Chequetan, of Seguataneo." (Zihuatanejo)
Lower image: "Vue de l'Entrée du Port d'Acapulco. Gezigt van den Haven van Acapulco."
Copper etching by J.V. Schley from "Des Herrn Admirals, Lord Ansons Reise um die Welt" by M. Richard Waltern, 1749.
Print has two vertical folds to fit book size. Left fold has a crease parallel to fold. A few light spots in margins.
Upper image: 9 x 35.5 cm ( 3.5 x 13.9 ")
Lower image: 9.5 x 35.5 cm ( 3.7 x 13.9 ")
$ 130.00
Order Nr. MEXICO 2186