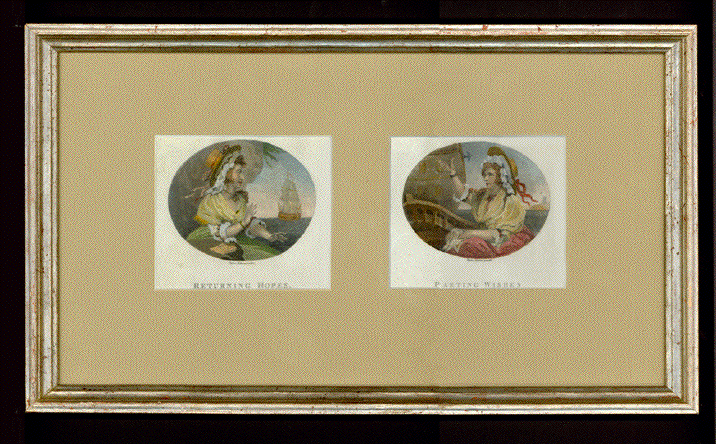 "Parting Wishes" und "Returning Hopes"
2 ovale handkolorierte Kupferstiche mit zwei Passepartout-Ausschnitten.
2 oval hand-colored copper engravings under a passepartout with two openings.
in einem Silberrahmen - a silver frame.
Bei ( by ) Taylor, Holborn, London, ca. 1790
Auf dem rechten Kupferstich nimmt eine junge Frau Abschied von ihrem seefahrenden Mann. Auf dem linken Stich freut sie sich auf das Wiedersehen mit ihm, während sich sein Schiff dem Hafen nähert.
On the right side is a young woman waving good-bye to her seafaring man. On the left side she is happy to see him returning as she see the ship coming to harbour.
Ideales Geschenk für eine Matrosen-Braut. Perfect give for a bride of a marine or sailor.
Zartes, zurückhaltendes Handkolorit. Beide Stiche gut erhalten. Der Echtsilber-Rahmen hat einige Gebrauchsspuren. Stich links is repariert oben links.
Very pleasant pastel coloring. The frame is real silver with a few signs of age. Left print has repair in upper left corner.
Darstellungen ( images) : Je 10 x 11,8 cm ( each 3.9 x 4.6 ")
Mit dem Rahmen ( with frame ): 26 x 45 cm ( 10.2 x 17.7 ")
$ 60.00
Order Nr. READYTOHANG237344