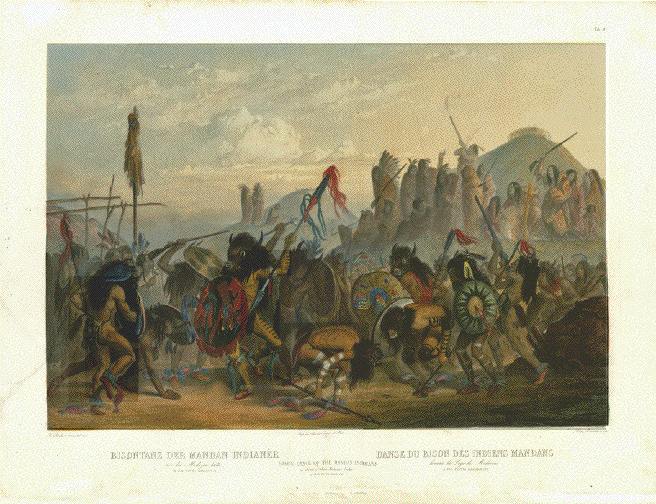 "Bisontanz der Mandan Indianer vor der Medizin Hütte - in Mih-Tutta Hangkusch
Danse du Bison des Indiens Mandans devant la Loge de Medicine A Mih-Toutta- Hankouche
Bison-Dance of the Mandan Indiens in front of their Medicine Lodge i Mih-Toutta-Hankush"
Aquatint etching by Alexandre Damien Manceau (1817-1865)
after the painting by Carl Bodmer (1809-1893)
Original hand coloring heightened with gum arabic.See details.
Published as Plate 18 in:
"Reise in das Innere Nord-America in den Jahren 1832 bis 1834"
(Travels in the Interior of North America during the years 1832 -1834)
Autor: Maximilian Prinz zu Wied-Neuwied (1782-1867)
Printed by Bougeard in Paris
Publication date: 1839-1842 (Paris, Coblenz and London)
Printed on China paper and laid down on cardboard
Bodmer dry stamp
Condition: Print on China had been removed from underlaying thick wove paper for unknown reasons, but probably because the underlaying paper was damaged. The print then was laid down on strong paper. Remounting the China paper resulted in the damage of unprinted parts of the China paper in upper and left Margin as well as a tear running about one inch into the image on left. There was also a tear clear across the China paper at very bottom, just above the publishers' addresses (Coblenz, Ackerman and Bertrand. We are trying to document these damages as best we can by way of scans. Except for very minor folds when remounting China paper, the image itself with its outstanding original hand coloring is intact.
Measurements: Image: 30,8 x 44 cm (ca. 12.1 x 17.3")
Including underlaying paper: 41,3 x 53,8 cm (ca. 16.3 x 21.2")
$ 6500.00
Order Nr. BODMER PLATE 18