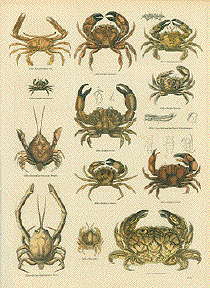 Podophthalmus vigil, Eriphia spinifrons, Thalamitor nator, Piremela dinticulata, Xantho floridus, Eriphia Gonagra, Eye, Orbit and Jaw-foot of Pedophthalmus, Corystes Cassivelaunnus: Female, Erphia Laevimana, Rupella tenax, Corystes Cassivelaunus: Male, This polita, Zozymus aenus.
Wood engravings from an illustrated work ca 1875. Recent hand coloring.
On the reverse side is text (in English) about these animals.
Page size: 34.7 x 24.8 cm ( 13.6 x 9.7 ")
$ 70.00
Order Nr. SHELL9246