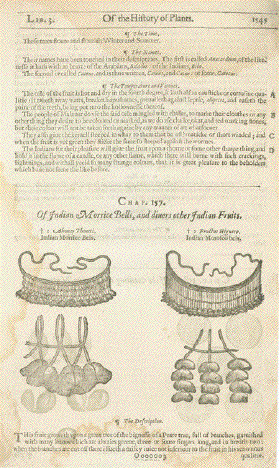 "Of Indian Morrice Bells, and divers other Indian Fruits"
"Ahovay Theveti" and "Fructus Higuero"
Fruits of plants which, dried, rattle. These were used by people
in India for Morris Bells tied around the legs of Morris Dancers
Woodcuts.
Published in ăGerard's Herbal - History of Plants" by John Gerard (1545-1612)
London, 1597
Reverse side:
Of the vomiting and purging Nuts
"Nuces vomicae" Vomiting nuts and ăNuces purgantes" Purging nuts
On either side of print: Explanatory text in English language
Print has water stains and has repairs of paper edge in lower part (see scan)
Page size: 32 x 18,5 cm (ca. 12.5 x 7.3")
$ 60.00 (Please see discount at top of this page. Here 40% = $ 36.00).
Order Nr. GERARD254776