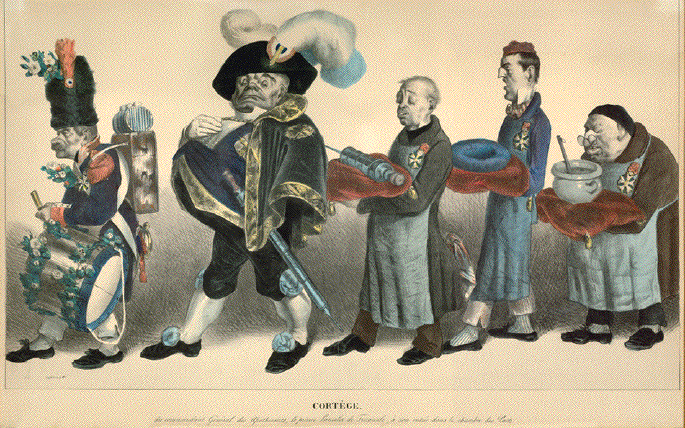 "Cortège du Commandant Général des Apothicaires, le prince Lancelot de Tricanule, à son entrée dans la Chambre de Pairs"
Cortege of the commander general of Apothecaries, the Prince of Lancelot de Tricanule, as he enters the Chambre de Pairs
Ehrengeleit des kommandierenden Generals der Apotheker, des Prinzen von Lancelot de Tricanule, bei seinem Eintritt in die Chambre de Paris
Lithograph by Honoré Daumier (1808-1879)
Original hand-coloring
Published by Aubert, Galérie Véro Dodat. Paris, August 1, 1833
Published sur blanc in "La Caricature" Pl. 299-300
Delteil XX, Nr. 65
The famous satirist Honoré Daumier is well known for his acrimonious sense of humor. The story behind this masterpiece of Daumier's early work: Daumier has Georges Mouton de Lobau (1770-1838), General and Marshall of France, marching in a cortege in a posture and conduct of "Here I come!" His arrival announced by a drummer and followed by subordinates carrying the insignia of the apothecary guild. Mouton was a member of the French Chamber of Deputies since 1828. He played an important role within the liberal opposition. King Louis-Philippe appointed him to be the Commanding General of the National Guard. Mouton became famous for having ordered the fire department of Paris to use their water hoses to disperse the outraged masses protesting the government action on Place Vendôme on May 12, 1831. On June 27, 1833 the King appointed him Marshall and Pair de France in return for this invention to control rebellious subjects.
Daumier took this happening and Mouton's "invention" for a good reason to allude to the use of fire hoses by drawing Prince Lancelot de Tricanule with the enema (clyster) syringe being carried in the cortege.
Light general age toning. Hardly visible light spots from mounting in the two upper corners. Splendid original hand coloring.
Generally: Very good condition.
32 x 50,3 cm (ca. 12.5 x 19.8")
$4800.00
Order Nr. DAUMIER242297