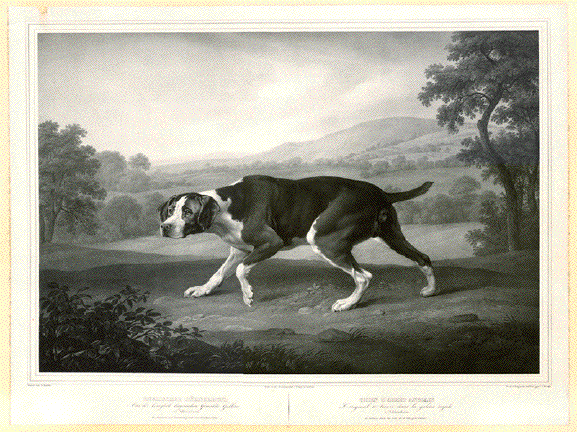 "Englischer Hühnerhund / Chien d'Arret Anglais" (English Pointer)
Very expressive and fine-grained!!!
Type of print: Lithograph
Lithographen: Johannes Woelffle (1807-1893)
Painter: George Stubbs (1724-1806)
Published in: "Gemäldegalerien von Menschen und Schleissheim"
Publisher / Date: Piloty & Loehle, Munich, Germany. Ca. 1834-44
The painting belongs to the Art Gallery in Schleissheim, just north of Munich.
Condition: Lithograph has been laid down on thin cardboard. Image clean.
Upper margin edge has a small loss of paper, not interfering with image.
Image size: 34,8 x 51,6 cm (ca. 13.7 x 20.3")
Sheet size: 42,7 x 57,7cm (ca. 16.8 x 22.7")
Order Nr. DOG240001SOLD