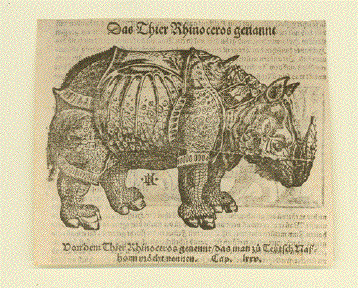 "Das thier Rhinoceros genant"
Woodcut by David Kandel after Albrecht Duerer. Published in "Cosmographia" by Sebastian Muenster. Basel, 1553
Woodblock had split and was repaired for further printing, which explains white line through animal.
Paper naturally age-toned. No upper and lower margins.
Print from reverse side visible. Print is mounted on stronger paper.
Size of print with upper and lower titles: 13 x 16 cm ( 5.1 x 6.2")
Order Nr. HIPPORHINO237514SOLD