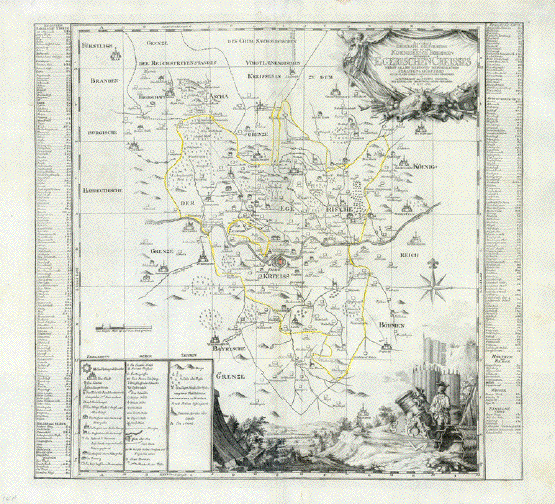 ãAccurate Geograph. Delineation des zu dem Koenigreich Boehmen gehoerigen Egerischen Creisses nebst allen darin befindlichen Staedten und Dörfern auch allen daran grenzenden Gegenden in Amsterdam bey Petrus Schenk..."
Copper etching (with original borderline hand-coloring) Published by: Peter Schenk. Amsterdam. Dated 1757
This map is a very detailed map of the city of Eger, which is now called Cheb.
Every village, every hamlet around the city of Eger is cartographed. Two columns left and right list in alphabetical order all places and their coordinates for this map. Keys for signs and abbreviations are marked in lower left corner. Two baroque cartouches enhance this beautiful map.
Diese Karte ist ein Schmuckstück für alle ehemaligen Egerländer. Sie zeigt namentlich jedes Dorf, jeden Weiler, jeden Fluss, Wald, Berg, Bach. Links und rechts die Liste in alphabetischer Reihenfolge. Zeichenerklärung unten links. Zwei Barock-Kartuschen verschönern die Karte zusätzlich.
Good condition. Minor traces of age and use.
47 x 49,5 cm (ca. 18.5 x 19.5")
Order Nr.CZECHMAP237485SOLD