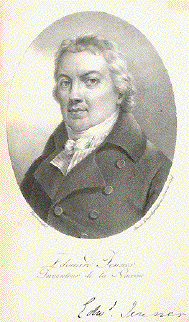 "Edouard Jenner Inventeur de la vaccine" (Edward Jenner 1749-1823)
Jenner is considered "the father of immunology".
Type of print: Lithograph
Lithographer: C. de Lasteyrie
Artist (drawing after): Pierre Roch Vigneron (1789-1872)
Published: In Revue Encyclopedique, Paris, dated 1824
Condition: Mounted on cardboard by collector. Underneith title: Edwd. Jenner in ink.
Possibly autograph. Some traces of age and use.
Full page: 17,8 x 10,5 cm (ca. 7 x 4.1"). Oval: 12,2 x 9,1 cm (ca. 4.8 x 3.6")
$ 70.00
Order Nr. MEDICINEPORTRAIT239930