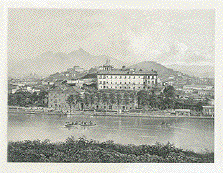 No title. Rio de Janeiro.
Anonymous tones lithograph. Ca. 1850/60
Never having been to Rio de Janeiro, we are groping in the dark for knowledgeable help. Could it be that we are looking at the Convento de San Antonio and the neighboring areas of the city?????????????? Any help will be appreciated
This print could be a proof print before any titling or the title could have been cut off. There is a good sized margin below the print with ample space for titling. It is a very attractive view of mid 19th century Rio de Janeiro.
There is a repaired tear into the image on the left side (into the water) which does not inhibit the beauty of the print.
36 x 48 cm (14.2 x 18.9")
BRAZILRIO2564SOLD