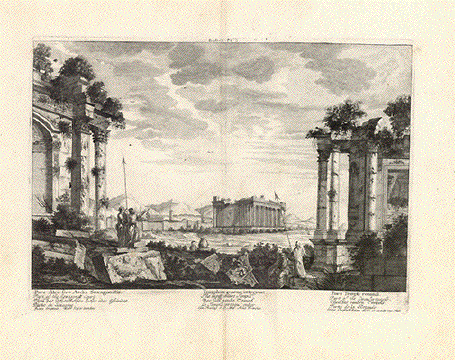 "Theil des sechseckichten Hofes oder Gebäudes" - "Der fast ganze Tempel" - "Theiß des run den Tempels" (Balbek. Part of the hexagonal court - The almost entire Temple - Part of the circular temple)
Titles in languages: Latin, English, German, French.
Type of print: Copper etching
Plate 2 from the "Balbek"-series
Engraver: Georg Christoph Kilian (1709-1781)
Artist: Robert Sayer (1725-1797)
Condition: Light general age toning. Some light pleat creases. Nice strong impression
Repair on centerfold in lower margin.
Image 24,3 x 36,7 cm (ca. 9.5 x 14.5")
$ 240.00
Order Nr. NEAREAST249102