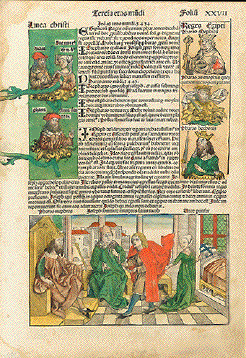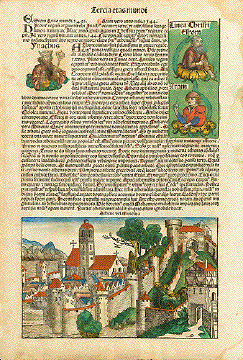 Part of Joseph Novella: Joseph, equally honored by Jews, Christians and Moslems. The chaste dream reader Joseph resists the temptationds of the Pharo's wife.
The other pictures on front side of woodcut: Portraits of Pharaos
Reverse side: Portraits of Inachus, Esrom and Aram. Plus a fictional rendering of the city of Athens.
Origionally hand-colored woodcut from the Nuremberg Cronicle by Hartmann Schedel (1440-1515).Schedel, medical doctor, humanist and historian ist the author of the Cronicle. It was published by Anto Koberger (14440 / 45 - 1513), in Nuremberg in the year 1493 (Latin edition in the month of May, the very small and therefore rare German edition in December 1493).
Traces of age and use. But, as it is over 500 years old, it is in very good condition. The original hand-coloring is simply superb!
Size of sheet: 43.5 x 29.0 cm (17.1 x 11.4")
Order Nr. SCHEDEL235514SOLD
Teil der Josephslegende. Jose Joseph, gleichermassen verehrt bei Juden, Christen und Moslems.
Hier: Der keusche Traumdeuter Joseph verweigert sich den Lockungen des Pharao Potifar's Frau.
Weitere Darstellungen auf der Vorderseite des Holzschnitts: Portraits verschiedener Pharaonen
Rückseite des Holzschnitts:
Fiktive Portraits von Inachus, Esrom und Aram sowie eine Phantasiedarstellung von Athen
Altkolorierter Holzschnitt aus der Weltchronik von Hartmann Schedel (1440-1515). Schedel war Arzt, umfangreich gebildeter Humanist und Historiker. Die Nürnberger Chronik, auch Schedelsche Weltchronik genannt, ist sein wichtigstes Werk. Das umfangreiche, grossformatige Werk entstand 1493 in Nürnberg. Anton Koberger (1440 bis 1445 - Geburtsjahr nicht genau bekannt - 1513) verlegte dieses extrem bedeutende Inkunabelwerk, zunächst in Latein (Mai 149, dann in deutscher Sprache (Dezember 1493).
Blatt zeigt Spuren von Alter und Gebrauch, ist aber nach über 500 Jahren in sehr gutem Erhaltungszustand. Die alten Farben sind prächtig!
Blattgrösse: 43,5 x 29,0 cm (17.1 x 11.4")
Order Nr. SCHEDEL235514 . SOLD