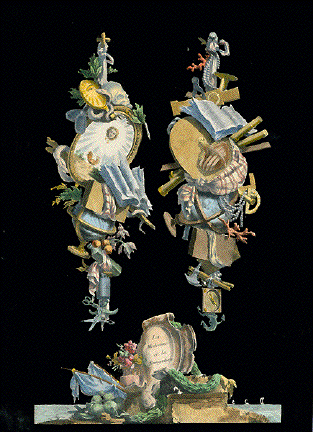 "La Medicine et la Navigation" (Medicine and Navigation)
Ornamentic copper etching hand-colored with gouache paint.
Published in "Ornaments, vases etc. d'apres les maitres"
by Auguste Pequegnot (1819-1878). Paris, 1858
Two allegoric, symbolistic, decorative assemblies of praphernalia of - left: Medicine, right: Navigation
In ancient Greek mythology medicine is represented by accessories known to be symbolic to the Greek God of Medicine and Healing Asklepios (or in Latin: Aesculapius). His rod, the snake around it, a skull, laurel a cock, a wise book, the pomegranate, a globe for heavenly wisdom and surgical instruments.
Navigation with its compiled paraphernaliaall sorts of nautical technical equipment, sextant, compass, clock, telescope, a wisee, a log book and a sea globe.
A playful combination of decorative meaningfulness that should let the heart of any naval medical doctor highten its beat.
Sheet size: 36 x 27.5 cm (14.2 x 10.8")
$ 280.00
Order Nr.PEQUEGNOT235701