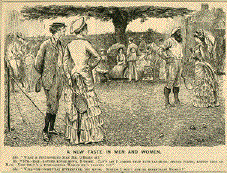 A New Taste In Men and Women
She. "What a fine looking man Mr. O'Brien is!"
He. H"m -Hah _ Rather Rough-Hewn, I think. Can't say I admire that loud-laughing, strong-voiced, robust kind of Man. Now that's a fine-looking woman he's talking to.!'
She. "Well. - er - somewhat effeminate, you know. Donfess I don't admire effeminate women!"
Wood engraving from "Punch" dated 1883. Reverse side is printed.
11 x 17.5 cm ( 4.3 x 6.9 ")
$ 40.00
Order Nr.TENNIS8435