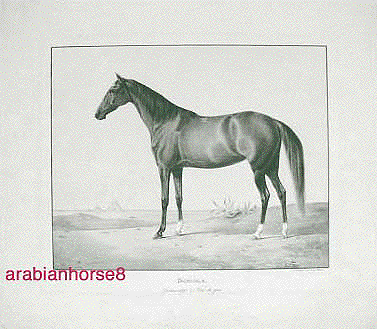 "Dongola".
Lithopgraph by Ekeman Allesson after the drawing by Rudolph Kuntz. 1823
Dongola was one of 18 foundation Arabian imports to the Court of the King of Wuerttemberg who founded a
stud farm in Weil (near Stuttgart) in 1817. The other seven mares were: "Hasfoura", "Dscheran Bassan" ,
"Geiran", "Bedko" "Derbendisch", "Schakra", "Saridan". The King also imported ten stallions: "Gumusch
Bournou", "Cheraky", "Tayar", "Achwerdow", "Mameluck", "Ali Bey", "Emir", "Mirza", "Dahman" and "Hurschid"
(spelling is typically German).All of these legendary horses were drawn by Rudolph Kuntz and lithographed.
Nearly impecable lithograph. Clean, wide margins. A joy to look at. Whatever little faults there may be, they are not worth mentioning.
Red print is not on lithograph!
Image: 34 x 42 cm (13.4 x 16.5"). Full page: 52.7 x 62.3 cm (20.7 x 24.5")
Order Nr. HORSE -8-8436 SOLD
**********