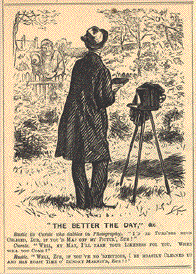 The Better the Day
Rustic (to curate who dabbles in Photography). "I'd be Turr'ble much obliged, Zurm if you'd map off my picture, Zur!"
Curate "Well my man, I'll take your likeness for you. When will you come?"
Rustic. "Well, Zur, if you've no `bjectionns, I be mostly cleaned up and has moast time o´Zunday Marnin's, Zur!!"
Wood engraving from "Punch" dated 1873. Backside is printed.
14.5 x 10.4 cm ( 5.7 x 4 ")
$ 25.00
Order Nr. PHOTOGRAPHY8301