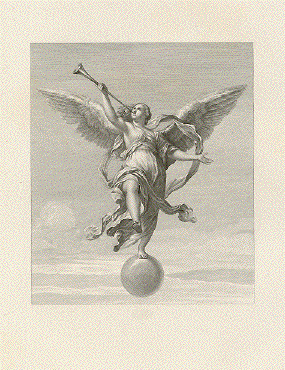 No title. ăLa Fama": The angel announces the ăLast Judgement"
Type of print: Copper etching. Printed on China and laid down on laid paper.
Artist: Not signed. But definately by Carlo Lasinio (1759-1838)
Painter: Guido Reni (1575-1642)
Publisher: R. d'Anzeglio (dry stamp imprint)
Printer: Fratelli Avondo (Seravalle Sesia). With watermark
Date printed: 1836
Printed in: Torino, Italy
Mesaurements:
Image: 18,2 x 15,5 cm (ca. 7.2 x 6.1")
Sheet: Ca. 40 x 28 cm (15.7 x 11")
Condition: Image nearly immaculate. Wide margins show some foxing.
$ 95.00
Order Nr. ANGEL236470