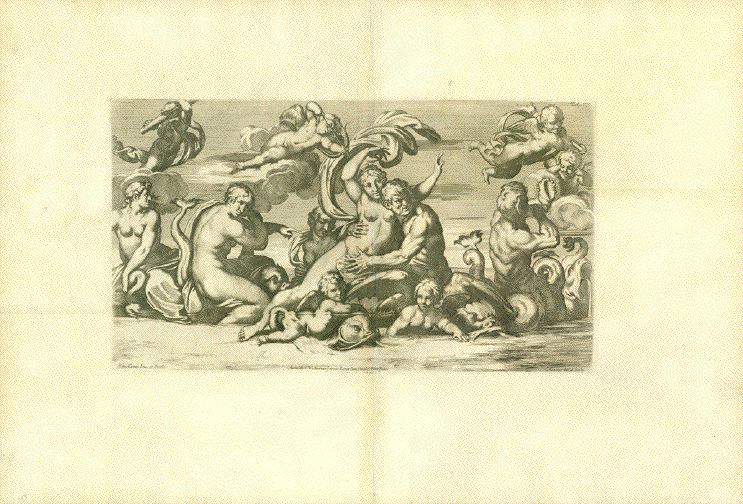 No title
A naked female, carried by sea monsters, is embraced by Triton
There are various interpretations of this ceiling fresco in Galleria Farnese.
Copper etching by Carlo Cesio (1626-1686)
Design by Arnold van Westerhout (1651-1725)
After the fresco in Galeria Farnese in Rome by Annibale Carracci (1560-1609)
Published in "GALERIA NEL PALAZZO FARNESE IN ROMA DEL SERENISS·DVCA DI PARMA ETC· DIPINTA DA ANNIBALE CARACCI INTAGLIATA DA CARLO CESIO". Plate Nr.IX (9) in this important publication with 44 etchings.
Publisher: Venanzio Monaldini.
Rome, Roma, Rom, 1657
Annibale Carracci, commissioned by Cardinal Odoardo Farnese, created the frescos in Galeria Farnese in the year 1597.
Wide margins. Centerfold because of book size. Traces of age and use, like light creasing, in margins, some reaching slightly into image. Image in near very good condition.
Image: 25 x 45,2 cm (ca.9.8 x 17.8")
Sheet size: 48,5 x 70,5 cm (ca. 19 x 27.8")
$ 750.00 (Please look for discount at top of this page)
Order Nr. CARRACCI252780