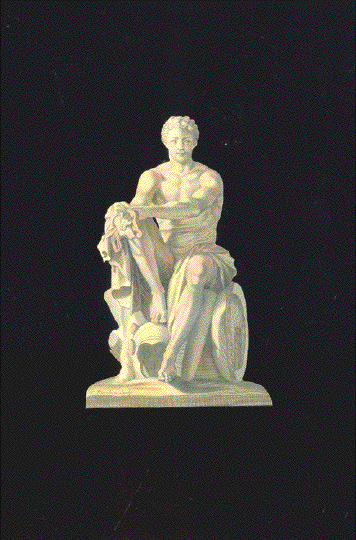 "Statua di Marte Nudo, e Disarmato con Armi ai Piedi" (Statue of the naked Mars╔)
Copper etching by Claude Randon (1649-1704)
Published in "Raccolta Di Statue Antiche e Moderne Data In Luce Sotto I Gloriosi Auspici Della Santita Di N.S: Papa Clemente XI" by Domenico de Rossi.
Rome, 1704
The marble statue is located in the "Orti Ludovisi" auf dem Palatin in Rome,
Statue hand-colored in a flesh tone and surrounded by velvety hand-colored black. Beyond the black are ample margins. The margins show traces of age and use along the edges. The image itself in very good condition.
Image: 22,5 x 14,8 cm (ca. 8.9 x 5.8")
Image including black surrounding: 42 x 29 cm (ca. 16.5 x 11.4")
Sheet: 45 x 34 cm (ca. 17.7 x 13.4")
$ 260.00 (Please look for discount at top of this page. Here 40% = $ 156.00)
Order Nr. ROSSI/STATUES254142