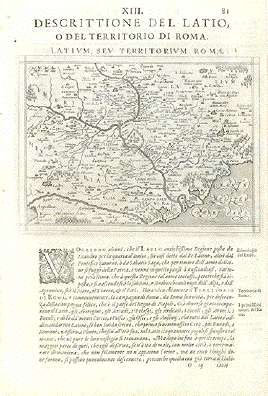 - - - - - - - - - - -
Separate page: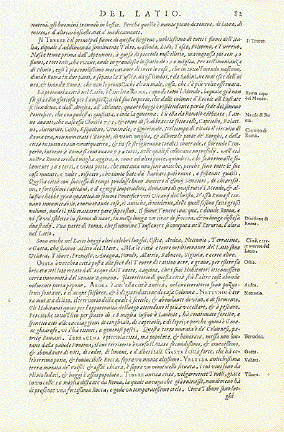 "Descrittione Del Latio o Del Territorio Di Roma"
"Latium, Sev. Territorium Romae"
This map shows "north" on the left side. The right side is "south", the upper side is "east" and the lower side is "west".
It is easier to see that the Tiber flows into the Mediterranean. Rome, of course is in the center. The "Colli Albani"
and the lakes are shown in fine detail. Many of the Roman Villas are shown. A fine map for collectors of early maps.
Type of print: Copper etching
Artist: Girolamo Porro
After: Giovanni Lorenzo d'Anania
Published in: "Geografia cioe Descrittione Universale della Terra"
Publisher: Gio. Battista & Giorgio Galignani Fratelli
First published by: Claudius Ptolemy
Edition: Italian edition
Editor: Giovanni Antonio Magini (1555-1617)
Text: Italian. Complete on front and reverse page and on a separate page.
Published in: Venice
Date: 1598
Measurements:
Map size: Ca. 11.5 x 16 cm ( 4.5 x 6.2 ")
Page size: Ca. 28,5 x 18.5 cm (ca. 11.2 x 7.2")
Condition: Near perfect. Very minor traces of age.
$ 320.00
Order Nr. ITALIAMAPPA241857