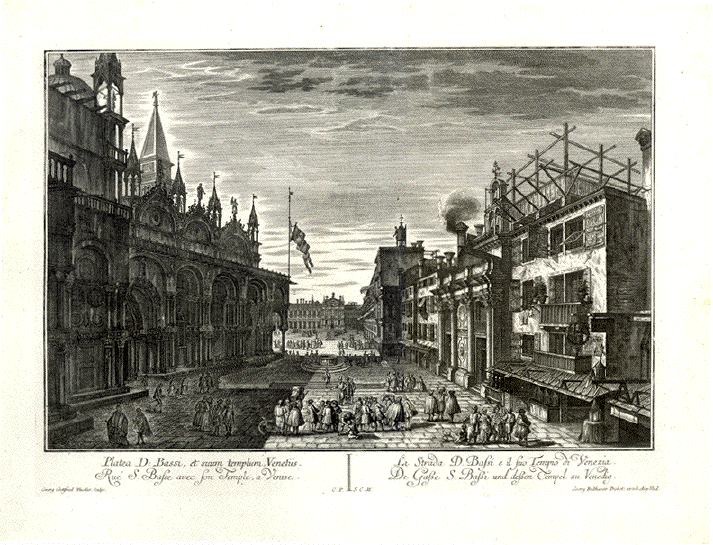 "Platea D: Bassi et suum templum, Venetiis"
"Rue S.Basse avec son Temple, a Venise"
"La Strada D. Bassi e il suo Tempio di Venezia"
"Die Gasse S. Bassi und dessen Tempel zu Venedig"
Title in four languages
Georg Balthasar Probst was the most important memeber of an Augsburg family of artists and publishers.He was the German representative of the "Vue d'Optique" , a genre of copper engravings showing in the size of this here shown print the architectural "wonders of the world" to people mainly during fairs. The prints were pushed into a view box and the viewers, one at a time, could look through a lens to see the prints inserted into the box by the operator, for money, of course. There were French, Italian, Spanish, publishers of Vue d'Optique prints. But the most famous and the most true to facts ones came from the Augsburg workshop of G.B. Probst. He produced ca. 400 of them, not only views of places, but also a variety of other subject matters. While most prints of this genre were loudly and heavily colored, a small series was left black and white, truly showing their artistic value beyond the fulfilment of curiosity at fairs. This is such an example as is the next print down the line. The time od printing was ca 1750.
Lively baroque street scene in Venise. Print is in almost very good condition. A little vertical rippling of paper which happened during printing is the only drawback worth mentioning.Wide margins have a little insignificant fraying and spotting, not interfering with image.
Copper etching by Georg Balthasar Probst. Augsburg, ca. 1750
Kapff Nr. 166
27.2 x 41.3 cm 10.7 x 16.3").
$ 760.00
Order Nr. VUE D'OPTIQUE249208