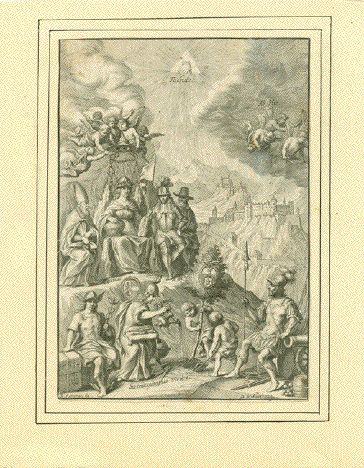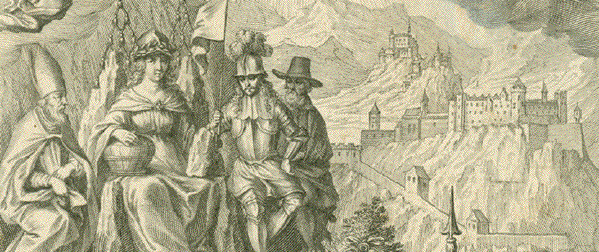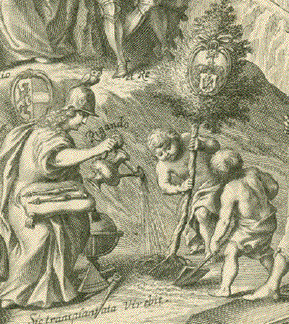 No title. Saeben (Sabiona) Benedictan Nunnery
Emblematic copper etching by Bartholomaeus Kilian (16301696)
After the drawing by Burkhard Schramann (active 1636-1674)
There is a date lower left corner, most likely 1671
This Benedictan nunnery dates back to the 17th century (which correlates with the date of this print).
The Holy Mountain as the location is called was long before the building if this nunnery an important pilgrimage.
This copper etching is crowned with the typical triangle, in which God Father's Hand and the Latin word: Tuendo, (meaning Protection) is blessing the action of the foundation of this nunnery.
The artists have chosen the grammatical form of "gerundium" indication God's continuing action:
Tuendo = He is protecting
Providendo: = He is caring
Two groups of angels are hovering above the nunnery and the people on this print. As you can see I have some question marks for interpretation. Maybe one of you, who read this, have better answers. Please do not hesitate to tell us!
At left a bishop, the king (Re) in armor holding a flag, a farmer? framing the a mythological figure of counceling
At the bottom of the print there are two boys planting a tree with the coat of arms (of the bishop???) and a woman, an owl on her helmet and a coat of arms above her, watering the tree.At the left Mercury (for prosperity? or Heraldry?). At the lower right an imposing soldier suggesting defense.
And the Latin words: "Sic transplantata Virebit". I am trying a translation: This way (by giving it water) the planted tree will grow and become green and fertil.
The etching is trimmed to plate marks and was obviously mounted in a collection book.
18,7 x 13 cm (ca. 7.4 x 5.1")
$ 240.00 (Please look for discount at top of this page)
Order Nr. ALTOADIGE253040