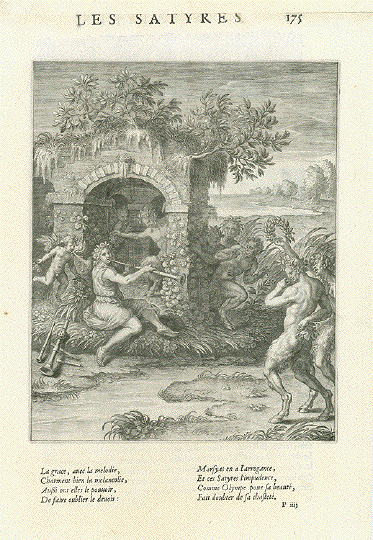 "Les Satyres"
Copper etching after the drawing by Jaspar Isaac (1585-1654)
Published in "Les Métamorphoses d'Ovide"
Paris, 1609
Text of verse by Ovid in French:
La grâce, avec la melodie,
Charment bien la melancolie,
Aussi ont elles le pouvoir,
De faire oublier le devoir
Marsyas en l'arrogance,
Et ces Satyres l'impudence
Comme Olympe pour sa beaute
Fait dioubter de sa chastete
Flute pülaying Olympia surrounded by lascivious satyrs.
Upper margin widened above title. Otherwise in very good condition.
Image including title and verses 30,5 x 18,7 cm (ca. 12 x 7.4")
Order Nr. FAUN245400 SOLD