Antique Botanical Prints by De Bry
Johann Theodor De Bry (1528-1598) came from Liege, Belgium to Frankfurt on the Main and founded about 1570 an important publishing house. The famous Florilegium Novum, a comprehensive flower book was first published between 1612 and 1618. The copper engravings we are offering are in very good condition in beautiful modern coloring and are mostly from the 1641 edition, published by Matthäus Merian, Johann Theodor De Bry's son-in-law. The complete title: Florilegium renovatum et auctum: variorum Maximeque rariorum germanium, florum ac platarum. The beauty of the prints is beyond comprehensible description. If you are interested we suggest that you click for viewing. The De Bry number under the image is the plate number on each page. Left margins are narrower. Some have been reinforced. Complete margins are not shown below. Prints have normal age toning and a few very minor spots. Special flaws are mentioned below.

The page size: Ca. 31.2 x 19 cm ( 12.3 x 7.5 ") unless otherwise given.

Sale!

40% discount on all DeBry prints!

Take 40% off the marked price!

Conuluulus caruleus minor C Bauhini ( Gaspard Bauhin )
Conuoluulus pennatus purpureus C. Bauhini
Molyinunci folium odere
Flos Tigridis rubet egregre circa medium tamen pall albusq.et maculatus
ex Mexico a Casparo Bauhini.

Left margin has been added. Repair in lower right margin corner.

Order Nr. DEBRY248077SOLD

---

DeBry 75

Medium sive Viola matina.
Digitalis exotica aborems vario flore.
Digitalis lutea.
Left margin has been widened.

Order Nr. DEBRY5275 SOLD

---

De Bry 119

Order Nr. DEBRY 5218 SOLD

119. The outer two flowers are Gladiolus and the center two are Colchicum.

---
Plate 27
Order Nr. DEBRY 5217 SOLD
27. Moly Dioscorides flore albo, Primula veris flore rubro, Halicacabus Indicus
arborescens, Caprifolium Italicum perfoliatum. Some hardly noticeable spotting.
---

Zumbul Indicum maijus flore caeruleo
Hyacintus Stellatus Cincraeus
Hyacintus Stellans germanicus
Hyacynth hispanicus

Order Nr. DEBRY248078 SOLD

---

De Bry 134

Order Nr. DEBRY 5240SOLD

134. Narcisissus Musart albus calice luteo. Narcissus albus minor præcox
calcis ambitum croceus. Narcisus calice luteo stella albicante.

---

Hermerocallis Valentina

Order Nr. DEBRY248076SOLD

---

De Bry 79

$ 180.00

Order Nr. DEBRY 5262

De Bry 107

Order Nr. DEBRY 5263SOLD
79. In the upper left is a variety of Tiger Lily, in the upper right is a pineapple.
At the bottom are two kinds of Aloe. Print has light offsetting.
107. Except for the two yellow-orange flowers (Blattaria), the others are all varieties
of gentian. Left margin has been widened.
Paper is a bit coarser than some editions.

---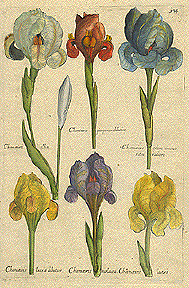 De Bry 124

Order Nr. DEBRY 5265SOLD


Both prints show some of the very early iris varieties. The page size: ca 31.5 x 19.6 cm ( 12.4 x 7.7 ")
Both prints are on a lightly toned and coarser paper.

---
De Bry 45
Order Nr. DEBRY 5267 SOLD
45. Four varieties of iris and two hyacinths. The page size: ca 31.5 x 19.6 cm ( 12.4 x 7.7 ").
Print has light toning and some miniscule spots.

---
De Bry 32

$ 80.00

Order Nr. DEBRY 5269

De Bry 121

Order Nr. DEBRY 5270SOLD
Nr. 32. Dimiliatus with seed pods and seeds.
Nr. 121. Four kinds of campanula and a purple crocus. Narrow left margin.
---
Plate 32

$ 120.00

Order Nr. DEBRY 5271

Plate 25

Order Nr. DEBRY 5272 SOLD
Plate 32. Shows an anemone and Fritillaria.
Narrow left margin. Print has noticeable offsetting.
25. Phaseolus Brasilicus. Print has a few, hardly noticeable spots.

---

Cyclamus odorato purpeo flore
Cyclaman Roman hedre folio flore purpureo dilutiore
Ciclamen Veronese otoratum florerubro folio orbiculato

$ 260.00

Order Nr. DEBRY248074

---

De Bry 35

Order Nr. DEBRY 5249 SOLD
35. Hemerocallis Calchidonica flore miniato, Calaminta montana præstantior,
Chamæris latifolia purpuromolacea. Print has offsetting from printing in lower right corner.
---

De Bry 4

Order Nr. DEBRY5281SOLD

Sultan Zambach Lilium album Byzantinum.

---

De Bry 36

Tiny repaired tear on lower bottom edge.

Order Nr. DEBRY5286SOLD

Lilium Rubrum praecox vulgo Martagon Pomponi polyanthon.

---

De Bry 20

$ 240.00

Order Nr. DEBRY 5252
20. Leucoium bulbsuin præcox minus album, Leucoum Bulbosoum album lati folium,
Leucoium bul. præcox Byzant maius album latifolium.

---

De Bry 33

Order Nr. DEBRY5290 SOLD

Six varieties of fritilla.

---
De Bry 178

Order Nr. DEBRY 5201 SOLD

De Bry 109

Order Nr. DEBRY 5202 SOLD
De Bry 178. Left is Caprifoliu sive Periclymenon Germanicum and right is Lilio asphodelus luteus
De Bry 109.Five marigolds. Upper left: Aphricanus flos maior pleno, Aphrican, alter pleno flore, Aphrican flo. simple, Bottom left: Aphric. flos maxim, simp. luteo, Aphric. flos maxim, pleno aureo

---

Caryophyllus Indic flore multipliciluteo maior vel aureo
Fraycinel la albo
Fraycinel albo sub Cerulea

Order Nr. DEBRY248073SOLD

---

De Bry 58

Part of the background has light graying and streaking.

Order Nr. DEBRY5292 SOLD

58. Hya hispa, Hya minor tuberosa, Hyaautumnalis purpeo pallido, Hya flore cerulo pallido.

---

De Bry 122

Order Nr. DEBRY 5235 SOLD
122." Tulipa lutea odorata Bononiensis praecox alys Narbonsensis"
Interesting is that after the word "praecox" there is also the Greek word.
Titles at bottom of page: " Nasturtiu Indicum fl. luteo strys rubris" " Iasminum fl. albo vulgare"
---

Lily Susiani flos vulgo Lilium Persicum
Lily Susiani Scapuscum bulbo

The colors on this print are faded.

$ 160.00

Order Nr. DEBRY248075

---

De Bry 65

Order Nr. DEBRY5289 SOLD

Martagon Montanum longiore spica.
Liliu rubru bulbiferum alis cruentum.

---

De Bry 130

Order Nr. DEBRY 5224 SOLD

130 4 kinds of Martagon (lilies)

---
Framed DeBry Prints
Below are four very interestingly framed DeBry prints. The Italian frames are more attractive than these photos can show. The frames have an outer antiquitated gold border and a decorative floral border that rises 3 cm higher than the outer gold border. The floral border has an antique appearance and the texture of oil painting.The inner gold border is 1 cm lower than the floral part of the frame. The total width of the frame is 6 cm (2.3 ").
The outer size of the frame is 36.2 x 30.5 cm ( 14.2 x 12 ")
The inner measurements are 22.7 x 17 cm ( 8.9 x 6.6 ")
DeBry 27
Gelsiminum Indicum flauum odoratissimum.
$ 220.00
Order Nr. DEBRY5299
----------------
DeBry 23
Gelsiminum Indicum flore Phoenicco
Order Nr. DEBRY5300SOLD
-------------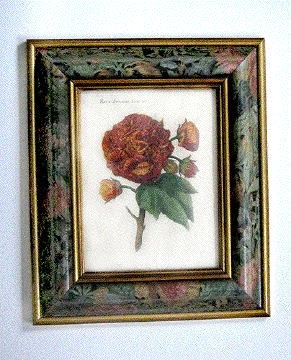 DeBry 30
Rosa sinensis Foliosior
( Minor spotting)
$ 320.00
Order Nr. DEBRY5301SOLD
---------
DeBry 15
Narcissus Indicus Liliaceus saturo colore purpurascens.
$ 220.00
Order Nr. DEBRY5302
---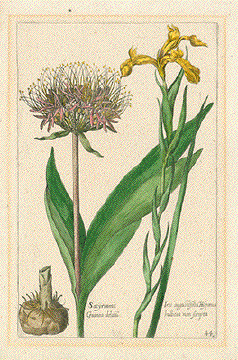 Satyriume Guinea delatu
Iris augustifolia Hispanica bulbosa non scripta
This print was once framed. There is light toning and a light brown line from the passepartout.
$ 180.00
Order Nr. DEBRY248072
---
De Bry 55

Order Nr. DEBRY 5203 SOLD

De Bry 55. The text at the top of the page in German:"Erweiterung oder Fortpflanzung des newlich angefangenen, schon vermehrten Blumbuchs; so jetzt mit mancherley schönen Blumen ausfebeßert und geziert worden. 1613." Carnations and Sweet Williams (Armeria)
---
De Bry 18

Order Nr. DEBRY 5211 SOLD

De Bry 22

$ 120.00

Order Nr. DEBRY 5212
18. Canna Indica flore rubro punctato
22. Alphodelusramosus
---

De Bry 21

$ 100.00

Order Nr. DEBRY 5220

De Bry 21. Left is Flos Indicus and right is Narcissus Indicus
---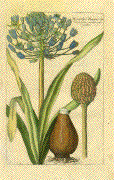 De Bry 9
Order Nr. DEBRY 5226
9. Hyacynthus Peruanus
---
De Bry 19
Order Nr. DEBRY 5227 SOLD
19. Two varieties of muscari, a Tragopogon in the middle and an Cana Indica to the right
---
Order Nr. DEBRY6037 SOLD
37. Several kinds of Hepatica, two of Satirium and in the center a caninus
---
De Bry 135

Order Nr. DEBRY 5238SOLD

De Bry 136

Order Nr. DEBRY 5239 SOLD
135. Narcissus Frisens luteus multipl., Narcissus Anglicus albus, Calice luteo,
Narcissus albus fl. pleno,Narcissus totus luteus oblongo calice & propendentibus folys,
Narcissus motanus sylvestris totus albus minor, Narcissus montanus sylvestris tot. albus maior.
Some light spotting on print. Plate mark has a slant at top.
136. Print has repaired tear in lower left corner reaching to plate mark. Narcisissus facie respondens,
Narcisso de Campe sort, duobus floribus,Narcissus facie referens Narcissum de Campe sort calicis lutei
finibia crocea stella alba, Pseudo narcissus tenui folius albus, Narcis Mompareille calice luteo amplo reliquis
folys pallidis aut dilute flavis, Narcisissus calice luteo pleno duplicatis folys, Narcis luteus pleno calice dictus
Trombon geaune double.
---

De Bry 114

$ 180.00

Order Nr. DEBRY5283

Hyacythus ramosus and Stramonia Aegyptiaca.

---

De Bry 110

Order Nr. DEBRY5287SOLD

110- Covoluulus Aegyptiacus, Colocassia cum flore, Molyiuasolium odore.

---

DeBry 87

Mandragora femina.

Repaired hole in lower right of print. Hardly visible.

Order Nr. DEBRY5280 SOLD

---

DeBry22

Eiusdem Narcissi bulbus, folia, semen.

Order Nr. DEBRY5279SOLD

---

DeBry 20

Eiusdem Narcissi Bulbus et folia.
Tiny thin spot in paper. Visible only against light.

Order Nr. DEBRY5273 SOLD

DeBry 17

Utriusque Narcissi Bulbus et folia.
Small spot on lower margin edge.
Small crease in right margin.

$ 130.00

Order Nr. DEBRY5274

---

De Bry 89

Order Nr. DEBRY 5255SOLD

89. Print shows 6 varieties of Leucoium.


---

De Bry 137

Order Nr. DEBRY 5231SOLD
137. The two upper rows are Viloas, the bottom row auriculas (primroses)
---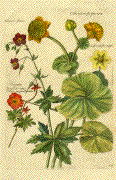 De Bry 70
$ 180.00
Order Nr. DEBRY 5232
70. To the left are two varieties of geranium, to the right are calthas
---
De Bry 62
$ 180.00
Order Nr. DEBRY 5216
62. left: Draguricul, vel Serpentaria maior, Middle upper: Arum maius, bottom middle: Arum minus angustifol. right: Serpentaris minuor
---

"Tubus ferreus ad Plantas transferendas"

"Imbex ferreus Extractorius"

"Rastrum Gallicum"

Three metal garden tools.

Anonymous copper etching from Johann de Bry: Florilegium Novum. Published in Frankfurt on the Main, 1641

Clean. Very good condition.

Sheet size: 23.8 x 18.2 cm (9.4 x 7.2")

$ 80.00

Order Nr. GARDEN235523

---
This is part of our selection of De Bry Prints. Please contact us if you are looking for special flowers.
Terms of Sale - Lieferbedingungen
© Rainer Rauhut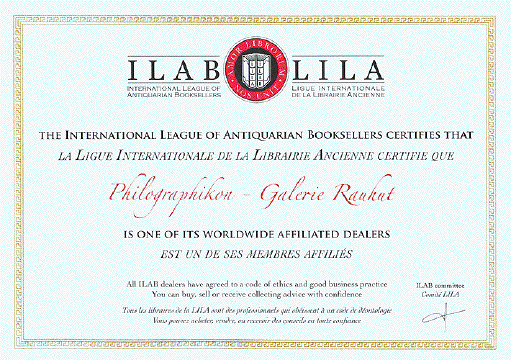 ---