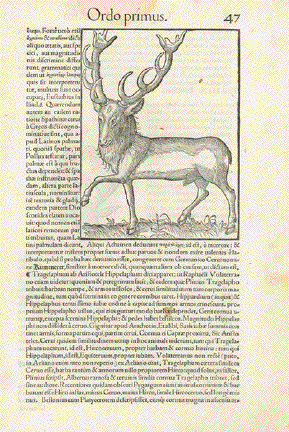 Image: 16 x 12 cm ( 6.2 x 4.7 ")
Reverse side: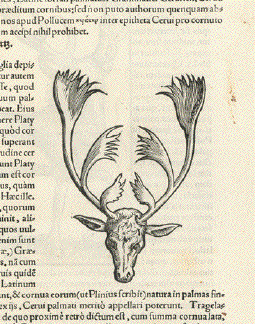 No title. Ordo Primus: Stag deer. Cervus. Twelve-pointer deer
Verso: Quadrup. ferrous (Wild animals): Head of a fallow deer.
Woodcut.
Published in "Historiae animalum"
By Conrad Gessner (1516-1565)
Zurich, 1551
Images are surrounded by Latin text print on either side of woodcut.
Very good condition
Stag: 15 x 12 cm (ca. 6.3 x 4.7")
Head with antler: 11 x 9 cm (ca. 4.3 x 3.5")
Page size: 34 x 22 cm (ca. 15.7 x 8.6")
$ 70.00
Order Nr. DEER243585