Antique Prints of Flying and Airplane History
Enjoy looking at these antique prints..
All Prints are in Good condition unless otherwise mentioned.
Sale! Discount!
40% Discount on All Prints with a FLYING number on this page!
Take 40% off the listed price.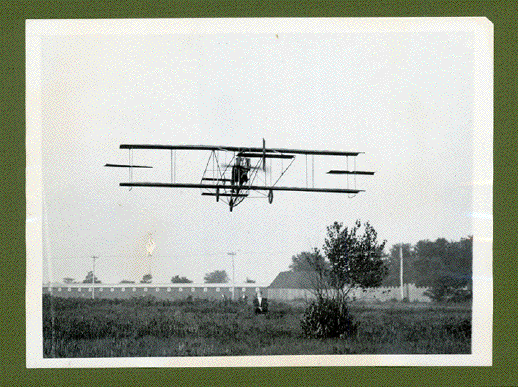 "When Glenn Curtiss Astounded the World on a Decoration Day Twenty Years Ago"
Original photograph printed May 30, 1930. Photo is mounted on dark green carton.
Photo is very clear. Light waves in outer areas.
Under the plane in the lower left area is a small white rubbed area.
Here is more of the text on reverse side:
"Albany N.Y. .... The motored "Box Kite" taking off amid the handwavings of friends, as Glenn H. Cartiss made his special flight down the Hudson on a Decoration Day twenty years ago. The plane made better time than even the Twentieth Century and the worls was astonished and thrilled by the thought. Today, following a luncheon given in his honor by the albany Chamber of Commerce, Mr. Curtiss will again pilot his plane over the same record-breaking course from Albany to Govenors Island. There will be striking contrast however. Mr. Cutiss will pilot a Huge twenty-passenger Curtiss Condor that will epitomize the progress of air traffic. Other planes will accompany him on the flight."
This must have been Curtiss' last flight or one of his last flights (on May 30, 1930).
Curis died on July 23, 1930 after appendix surgery of a heart attack.
Photo size with margins: 15 x 20 cm ( 5.9 x 7.8 ")
$ 120.00
Order Nr. FLYING240358
---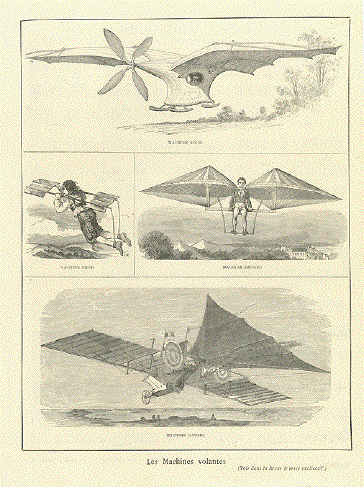 "Les Machines Volantes " (Flying machines )
"Machine Ader, Machine Besni, Machine Deghen, Machine Hansen"
Wood engraving ca 1880. Reverse side is printed.
27.5 x 21 cm ( 10.8 x 8.2 ")
$ 55.00
Order Nr. FLYING242224
---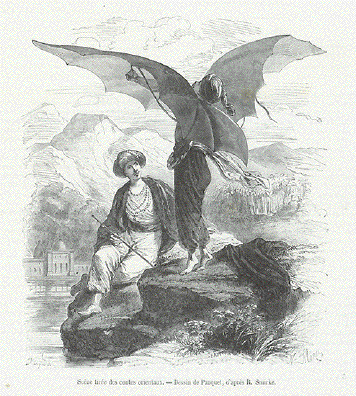 "Scene tiree des contes orientaux" ( scene take from an Oriental story )
An Aladdin-like person tries to fly - the dream of man!.
Wood engraving by Pauquet after Smirke, 1868. Reverse side is printed.
14.5 x 12.5 cm ( 5.7 x 4.9 ")
$ 30.00
Order Nr. FLYING242376
---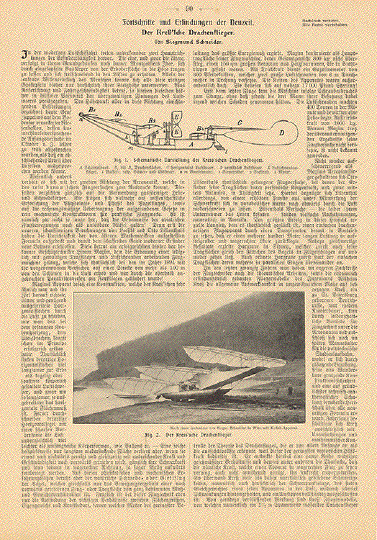 "Der Kress'schen Drachenflieger"
Upper image; "Schematische Darstellung des Kress'schen Drachenflieger"
Lower image: "Der Kress'schen Drachenflieger"
Page with images and an article ( in German ) by Sigmund Schneider, 1885.
Reverse side is printed with unrelated text and image. Overall age toning.
Page size: 29 x 20.5 cm ( 11.4 x 8 ")
$ 30.00
Order Nr. FLYING242478
---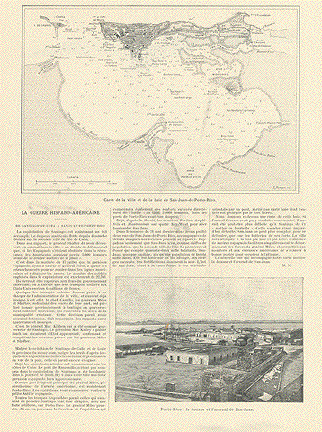 Upper image: "Carte de la ville et de la baie de San Juan de Porto Rico"
Lower image: "Porto rico: la douane et l'arsenal de San Juan"
*****************
Reverse side: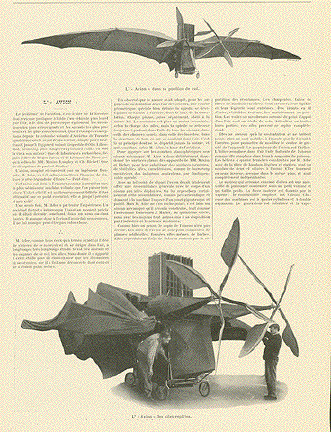 "L'Avion"
Upper image: "L ' Avion dans sa position du vol"
Lower image: "L ' Avion, les ailes repliees"
Wood engravings on both side of a page dated 1896.
Page size: 33.5 x 25 cm ( 13.1 x 9.8 ")
$ 90.00
Order Nr. PUERTORICO249210
---