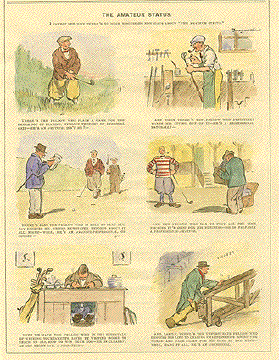 The Amateur Status
I cannot see why there's so much discussion nowdays about the "Amateur Status".
Upper left: There's the fellow who plays a game for the sheer joy of playing, without thought of Personal gain - he's an amateur isn't he?
Upper right: Ant then there's the fellow who definitely makes his living out of it - he's a professional, naturally.
Left center: There's also the fellow who is able to play all day because he writes newspaper reports about it all night - well, he's an amateur-professional, of course.
Right center: Antd the fellow who has to play all the time because it's good for his business - he is palpably a professional amateur.
Lower left: Then we have the fellow who in the intervals of winning tournaments lives by writing books to teach us all how to win them too - he is clearly, as you might say a profiteur.
Lower right: And, lastly there's the unfortunate fellow who devotes his life to chasing championships round the world and back again for 364 days in the year - well, hang it all, he´s an amessional.
Wood engraving from "Punch, or the London Charivari", dated 1925. Modern hand coloring. Backside is printed. Narrow margins. Modern hand coloring.
23.7 x 17.7 cm ( 9.3 x 6.9 ")
$ 90.00
Order Nr. GOLF8217