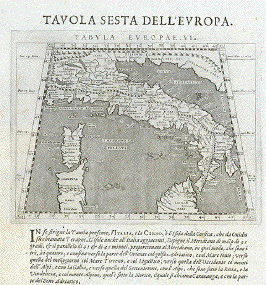 ------
Reverse: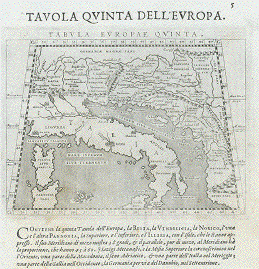 "Tavola Sesta dell'Europa - Tabula Europae VI" Italien
Type of print: Copper etching
Artist: Girolamo Porro
Published in: "Geografia cioe Descrittione Universale della Terra"
Publisher: Gio. Battista & Giorgio Galignani Fratelli
First published in: "Geographia" von Claudius Ptolemy
Edition: Italian edition
Editor: Giovanni Antonio Magini (1555-1617)
Text: Italian.
Published in: Venice
Date: 1598 Map shows all of Italy including parts of Sicily and Sardinia
Measurements:
Map size: Ca. 12,5 x 17 cm (ca. 4.9 x 6.7")
Page size: Ca. 28,5 x 19 cm (ca. 11.2 x 7.5")
Reverse side: Balkan. See description below.
Condition: Lower margin is missing a piece of paper (see foto). Map itself flawless.
Reverse side
"Tavola Quinta Dell'Europa - Tabula Europae Quinta"
Map shows on reverse side: the entire Balkan and an undefined Italy to create the geographical oversight.
$ 350.00
Order Nr. ITALIAMAPPA236447