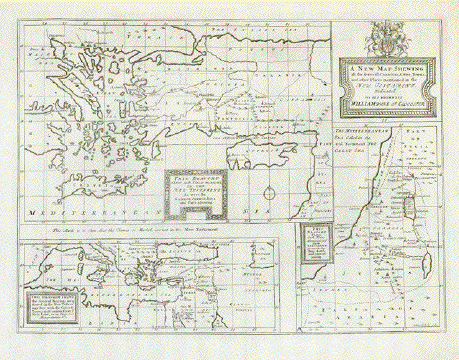 "A New Map Shewing all the several Countries, Cities, Towns and other Places mentioned in the New Testament. Dedicated to His Highness William Duke of Glocester"
Copper etching by Sutton Nicholls (1680-1740). London, ca. 1730.
This sheet, titled as above, has three maps. Here are the titles of these:
1. - "This Draught Shews such Places mentioned in the New Testatment as were In Greece, Cyprus, Asia and Parts adjoining"
Focus is Cyprus, Turkey, Greece (the Aegean part)
2. - "This Draught Shews the severall Regions mentioned in the New Testamt. together with the Cities & Towns most remote from ye holy Land, as in Italy, Mesopotania &c."
Showes the Mediterranean Sea, Black Sea to Caspian Sea
3. - "This Draught Shews Such Places Mentioned in ye New Testament, As were in the Holy Land and parts adjoining"
Obviously published in a book, maybe a Bible. It has a centerfold and two other vertical folds to fit book size.. Watermark: HBS and a Coat of Arms. One Island in the Aegean Sea has handwritten ink name: Eutoa Chalus? Rverse side has ink page number: 35. Map has traces of age and use. Light creasing in margins.
35.5 x 47.5 cm (14 x 18.7")
$ 180.00
Order Nr. HOLYLAND236012