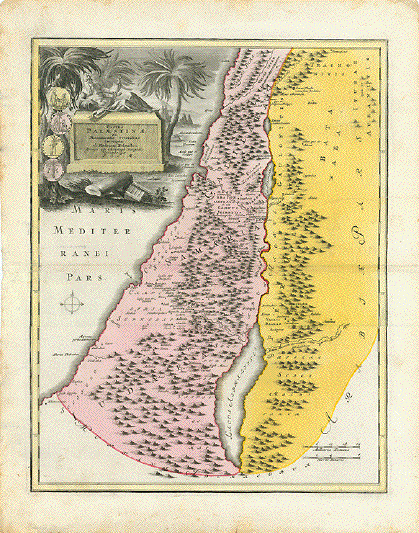 "Facies Palaestinae ex Monumentis veteribus descripto ab Hadriano Relando…"
Historic map showing what is nowadays Israel (Palestine) including Lebanon, Palestine, Gaza, the West Bank, Jordan, and parts of Syria. There are some coins and medals next to title cartouche.
Type of print. Copper etching
Color: Original hand coloring
Author: Samuel Faber (1657-1716)
Publisher: Christoph Weigel (1654-1725)
Published: Nuremberg, 1720
Edition: Weigel reissued "Atlas Scholastichodoeporicus…" which Faber originally published in 1716.
Condition: Beautifully bright original hand coloring. Reenforcement and repairs along centerfold. Wide margins spotty and a bit wrinkly. Traces of age and use. In general: Good.
40 x 32 cm (ca. 15.7 x 12.6")
$ 160.00
Order Nr. NEAREASTMAP239219