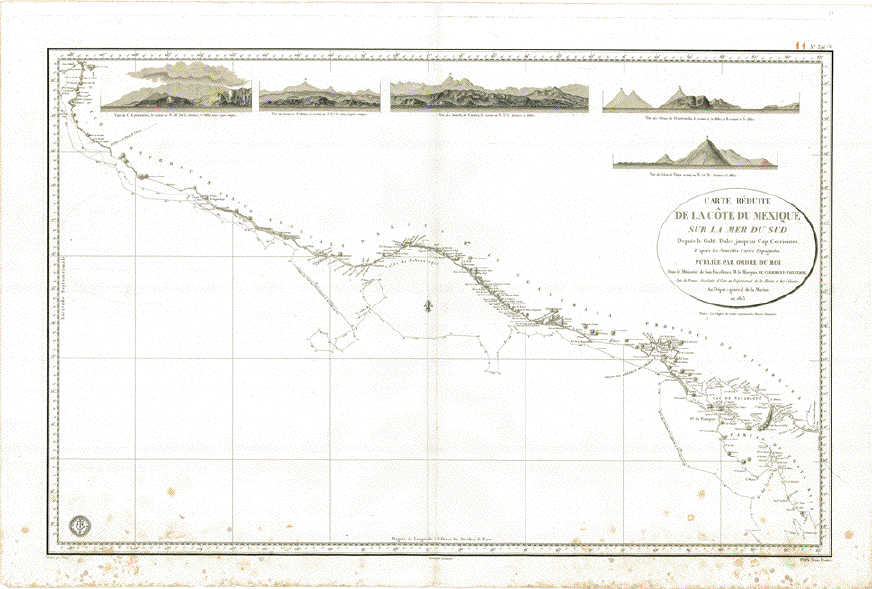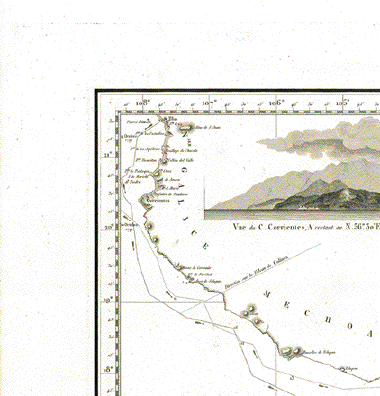 "Carte Reduite de la Cote du Mexique sur la Mer du Sud Depuis le Golfe Dulce jusque'au Cap Corrientes…"
Copper etching by Vicq in the name of the French King and the Department of the French Navy. It is dated 1823.
Across the top of this map we find (from left to right) profile views of Cap Corrientes, Colima (Vulcano), Mamelles de Coyuca, vulcanos in Guatemala and of the vulcano Viejo.
Although titled as coastline of Mexico, this map runs from Golfo Dulce near the Panama border along the Costa Rican, Guatemalan and Mexican Pacific coastline to San Blas, Nayarit. In other words: Pacific coastlines of Costa Rica, Nicaragua, Honduras, El Salvador. Guatemala and Mexico up to San Blas, Nayarit.
The mapping of this coastline was executed by geographic scientists on two corvettes of the Spanish Armada during the year 1791: "Descubierta" and "Atrevida". This expedition was called "Malaspina Expedition" and took place under the command of Captains Alessandro Malaspina and Jose de Bustamente y Guerra during the years 1789-1794.
The expedition began in Cadiz and went to Montevideo, Falkland Islands, Santiago de Chile, Lima, Acapulco, Nootka, Alaska and then continued across the Pacific to Asia, Australia, New Zealand and back to Cadiz.
Map has some spotting in lower part and in the lower margin, but is basically very clean. Vertical centerfold.
57 x 88,5 cm (ca. 22.4 x 34.8")
$ 1300.00
Order Nr. MEXICOMAP248443