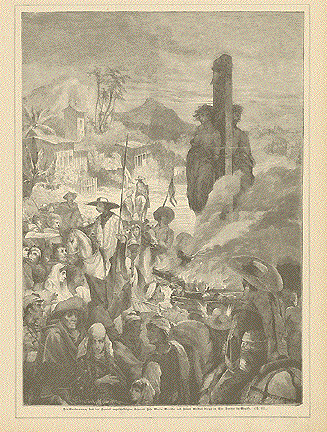 "Die Verbrennung des der Hexerei angeschuldigten Leperos Jose Maria Bonilla und seines Weibes Diega zu San Jacobo in Mexiko"
A Lepero is a Mexican of the lower classes who often is a begger.
(The burning of Jose Maria Bonilla and his wife Diega after being accused and convicted of witchcraft).
San Jacobo is nowadays incorporated in Ciudad Valles in the State of San Luis Potosi in Central Mexico.
Wood engraving. Light general age toning. There is a crease in upper left corner not touching the image. Reverse side has related and unrelated text print.
Published in a German periodical ca. 1880
31,3 x 22 cm (ca. 12.3 x 8.7")
$ 50.00
Order Nr. WITCHES251649