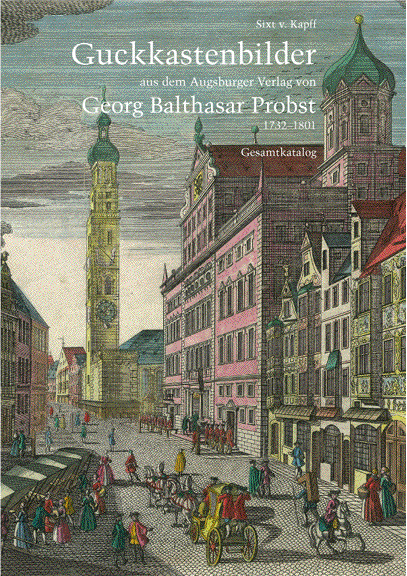 Book Title
For all of those who like or even love vues d'optiques, perspective views, Guckkastenbilder or peep box pictures the publishing of Sixt von Kapff's book on this subject matter is a great moment, a sidereal hour!
Dr. von Kapff is presenting here a veritable masterwork by composing acribically the entire work, which Georg Balthasar Probst (1732 - 1801), publisher in Augsburg, devoted to a new genre of printing: the perspective view. Over a long period of time Kapff meticulously and unrelenting carried together all information about the individual perspective views Probst had produced. He photographed each as he found them in public and in private collections, antiquariats and auction houses and did not relent until he had assembled the entire Probst work.
The result of this labor is indeed astonishing. It is as entertaining as it is scientific. Kapff was not satisfied with showing each vue d'optique but he went after the source. Which artwork served Probst as models for his prints? Wherever possible Kapff furnished even this very interesting information. Every single Probst-print is shown with all the necessary information pertaining to it: Title in all used languages, engraver (if known), Probst-number, exact size and even any specialties worth mentioning, and , last not least for collectors, dealers, auctioneers: the KAPFF number, by which from now on all Probst vues d'optique prints will be refered to.
Probst's perspective view prints belong to the highest in quality. Besides prints of Biblical and mythological themes, Probst printed mainly views of cities and places , mostly boldly hand-colored, which showmen offered to the public for small coin in their peep boxes. In times when travelling was limited to few, this was, for the general public, a possibility for a glance into the distant, wide world. The high quality of Probst perspective views is based on his use of foremost artists, such as Piranesi, Belotto (Canaletto), Marieschi, Werner, Remshart and many others.
From one, who has known Dr. Sixt von Kapff through all these years I express my admiration and my gratitude for this great book!
Rainer Rauhut, antiquarian
Sixt von Kapff, Guckkastenbilder aus dem Verlag von Georg Baltasar Probst 1732 - 1801. Gesamtkatalog. Bound (hard cover). Anton H. Konrad Verlag, Weissenhorn
www.konrad-verlag.de
ISBN 978-3-87437-548-1
Subscription price until April 30, 2011 is EURO 88.00 All Sold!
We regretfully inform our customers, that
Dr. Sixt von Kapff
Author of the book
"Georg Balth. Probst - Guckkastenbilder"
Died April 8, 2018