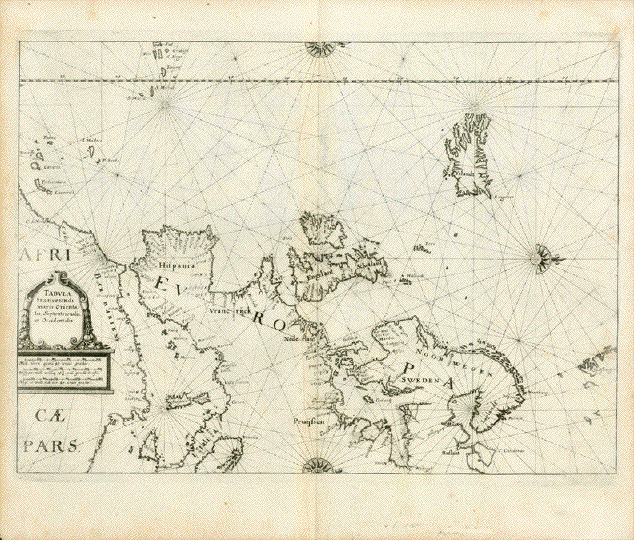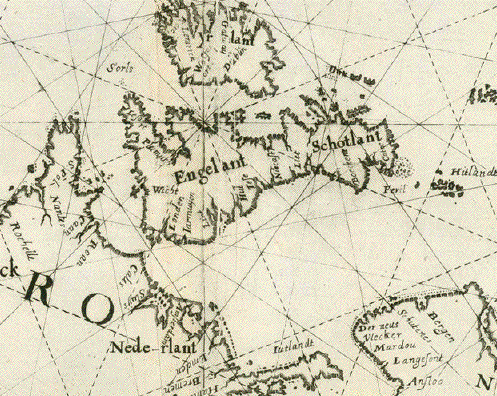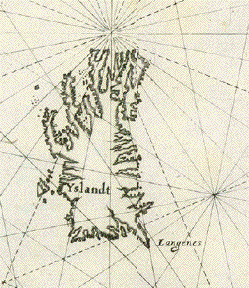 Europe. - "Tabula transeundi maris Orientalis Septentrionalis et Occidentalis"
Copper engraving by Julian Angelus von Werdenhagen 1581-1652
Aus: "De rebus publicis Hanseaticis tractatus cum urbium earum iconismis, descriptionibus, tabulis geographicis, et nauticis, nec non inductione generali Rom. Imper Germ. noviter auctus et reuisus"
Publisher: Matthaeus Merian (1593-1650)
Published as part of "Theatrum Europaeum"
Frankfurt on the Main, 1641
Werdenhagen copied this map from the Maritime Atlas published "Zeespiegel"
by Guillermo Blaeu (1571-1638) in the year 1623 in Amsterdam. He scaled the map down to the size of Merian's book
West-oriented map. Copper engraving. Showing Western and Northern Europe. Partially as a portolan map. Map reaches out into the Atlantic showing the Canary Islands, the Azores, Iceland, north to Spitzbergen, as well as portions of North Africa.
Lightly age-toned, especially along edges. Vertical centerfold smoothed.
Minor creases. Parallel creasing along centerfold.
Map image: 27,3 x 36,2 cm (ca. 10.7 x 14.3")
Rare! $ 380.00 (Please look for discount at top of this page. Here 30% = $ 266.00).
Order Nr. EUROPA255851