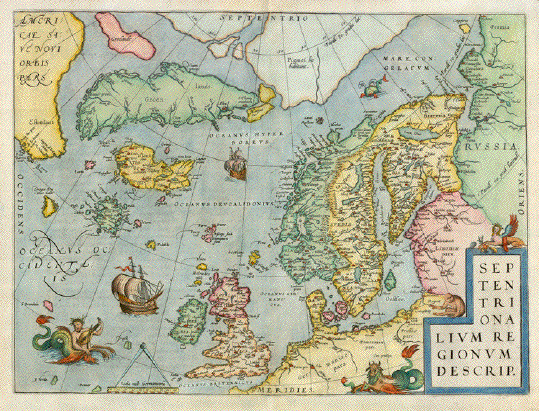 "Septentrionalium Regionum Descrip."
Hand-colored copper etching from ăTheatrum Orbis Terrarum"
By Abraham Ortelius
Antwerp. From the very rare First Edition, 1570
Verso: Latin
Atlas page nr. 45
This is the much sought North Atlantic map from the ăTheatrum" .
Map shows Scandinavia. Finland, The Baltic Sea with its roundabout coastline of Germany, Poland, Lithuania, Latvia, Estonia up to Pechora in Russia. the North Sea coastline along Germany, the Netherlands, Belgium and France as far south as Dieppe. It shows the British Isles, All island groups in the North Atlantic, Greenland, Iceland, the first hint of the American continent in Nova Scotia. It also shows the mythical island of Frisland, which appeared on all North Atlantic maps up to the 1660ies and the North polar region.
Adorned with sea monsters and sail ships this is one of the most collected maps ever.
Along centerfold some very minor repairs. Otherwise excellent, especially for this First Edition exemplar.
35,7 x 48,7 cm (ca. 14 x 19.1")
Order Nr. ATLANTIC237384SOLD