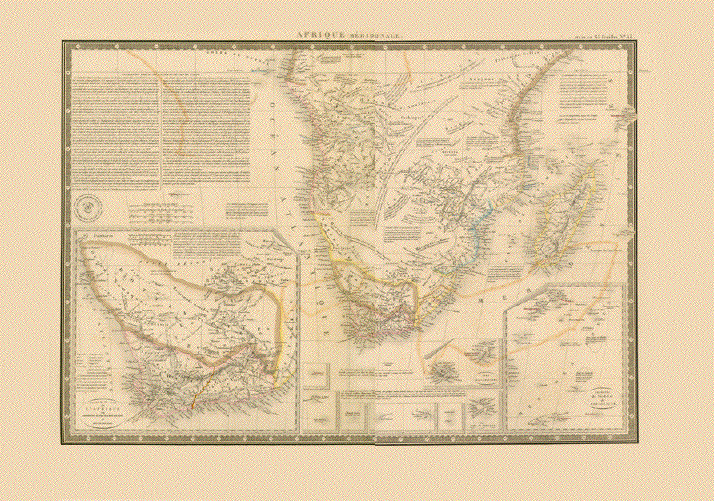 SOUTH AFRICA
"Afrique Meridionale"
Map of South Africa with several details as insets as described below.
Map shows Africa from just north of the equator southward. Madagascar.
With ethnological details
Insets:
Cape province and surrounding.
Seychelles islands and other island groups in the Indian Ocean.
Isles Mascaeignes (Ile de Bourbon, Ile de France)
Kerguelen
Iles Amsterdam and St. Paul
Iles Crozet
Ile du Prince Edward Ile de la Caverne
Ile Bouvet
Tristan de Acuna - Diego Alvarez
Ascension island
No authorship given. But assumptions can be made as follows:
Type of print: Copper etching
Color: Original outline hand-coloring
Author: Most likely -Adrien-Hubert Brué (1786-1832)
Publisher: Charles Piquet
Where: Paris,
When: Dated 1826, but revued and published 1834
Collector's dry stamp (embossed seal) dated 1835
Measurements: 36 x 51,5 cm (ca. 14.2 x 20.3")
Condition: Light general age toning. Some mirror color effects. Wide margins.
Repair in upper margin on centerfold..
Near Very good.
$ 400.00
Order Nr. AFRICA238288