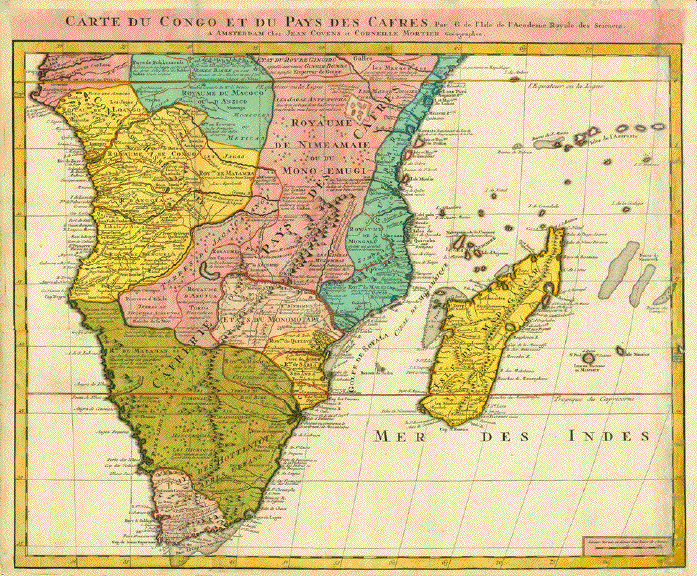 "Carte du Congo et du Pays des Cafres" Copper etching by Jean Covens and Corneille Mortier. Amsterdam, ca. 1700/10. Bright original hand coloring.
Map shows in great detail (of the time) Africa from the equator to the Cape of Good Hope. It also shows in detail the Island of Madagascar and the various island groups in the Indian Ocean, including Reunion and Maurice.
Except for the right side, which obviously was in poor shape and has restored tears and creases as well as an added margin, and a vertical crease running down the middle of the image, except for all of that the actual image has a strong, clear impression and is interesting on account of the shown detail with borderlines of long gone kingdoms and the information about various tribes and their areas. Just to name a few: Kingdxom of Mataman, Kingdom of Quiteve, Kingdom of Sabia, Kingdom of Mongale, Kingdom of Nimeamaie or Mono-Emugi, Kingdom of Matamba, Kingdom of Angola, Kingdom of Abutua, Kingdom of Benguela, Kingdom of Macoco or Anzico And tribes: Caffers, Jagas Anthropopha, Zanguebar, Namaguas, Hottentots, Maracates, Bokkemeale and several others. This map gives ample information about ethnic kinships Southern Africa, south of the equator.
50 x 60 cm (19.7 x 23.6")
$ 550.00 (in spite of the less than good condition)
Order Nr. AFRICA234610