Botanical Prints by Matthaeus Merian
Matthaeus Merian (1593 Basel - Bad Schwalbach 1650), famous for his "Topographies" and his "Theatrum Europeum" was also a very distinguished engraver and publisher of many other varieties of books and prints. Here we get to know him an author of simply wonderful descriptions of plants and flowers used in medicine. His specialty was to set the flowers oversize into a landscape, adorning the print with flying ribbon in which the name of the plant or flower is engraved. The book in which these little gems were published was called "Die fruchtbringende Gesellschaft", published in Frankfurt on the Main in 1646 or, in a rather helpless translation "the fruit-carrying society". We show here, for your information, a full page as it appeared in the book and restrain ourselves to show the rest just as images.

Page measures: ca. 33.2 x 19.8 cm (13 x 7.8 "). Images measure ca. 12.1 x 10.4 cm ( 4.7 x 4.1 "). The images find themselves in different positions on the book page. For framing the text will have to be folded under the matting. The text is in Old German and gives botanical information and medicinal use of the plants. Some backside text showing in prints. A few spots and creases. Special faults are mentioned.

Price: $ 135.00 each.
Sale! Discount!
50% Discount on All Prints with a MMERIAN number on this page!
Take 50% off the listed price. !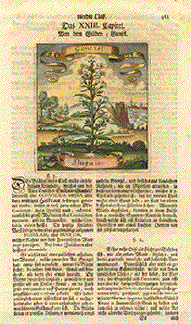 Showing an entire page.
Ligustium - Liebstoeckel

Order Nr. MMERIAN6638 SOLD

Plantago - Wegrich

Order Nr. MMERIAN6637

---

Hedera terrestris-Gundelreben

Order Nr. MERIAN6619

Rius...graf...-Sanpus

Nr.MERIAN MERIAN6620

---

Portulaca - Burtzel Kraut

Order Nr. MMERIAN6639

---

Ruta - Rauten

Order Nr. MMERIAN6632 SOLD

---

Tribulg - Wassernuess

Order Nr. MMERIAN6633 RESERVED!!

---

Sedum Minus - Katzen treublen

Order Nr. MMERIAN6644

---

Jacea - Flockblum

Order Nr. MMERIAN6641SOLD

Ammi - Ammey-Kraut

Order Nr. MMERIAN6628 SOLD

---

Borrago - Burretsch

Order Nr. MMERIAN6626 SOLD

---

Gramen-Graf

Order Nr. MERIAN6609

Verbena-Eisenhart

Order nr. 6614 SOLD
---
Trifolium - Klee Kraut

Order Nr. MMERIAN6636 SOLD

Rhabarbarum - Rhabarbar

Order Nr. MMERIAN6635 SOLD
---
Pulmonaria - Lungenkraut

Order Nr. MMERIAN6648 SOLD

Nymphea - Weisse Seeblum

Order Nr. MMERIAN6647 SOLD
---
Geranium - Storkschnabel

Order Nr. MMERIAN6646 SOLD

Cucumis asininus - Esels Kuerbs

Order nr. MMERIAN6645
---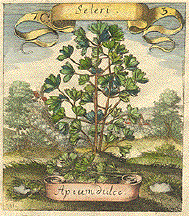 Apium Dulce-Seleri
This image is at the bottom of page.
Order Nr. 6615 SOLD
---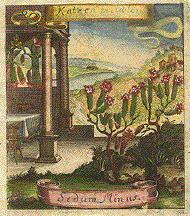 Katze-Sedum Minus
Order Nr. MERIAN6621
---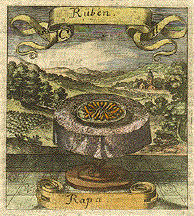 Rüben-Rapa
Order Nr. MERIAN6623
---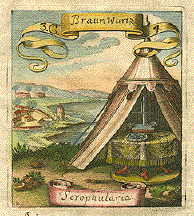 Braunwurtz-Scrophularia
Order Nr. MERIAN6625 SOLD
---
---