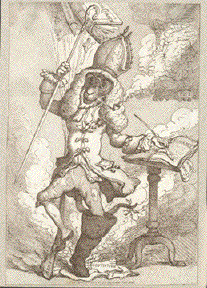 No title. Ministry of All Talents. The actual title under which this engraving was published was ćAll the Talents"
Monkey shown as genius with many if not ALL talents.
Stipple engraving by Thomas Rowlandson.
This refers to the the ministries of Great Britain, who pretend to fulfill every possible wish.
The caricature was published as a single print, dated 1807
London, 1807
Print is trimmed to edges and laid down on paper.
Image:17,2 x 11,5 cm (ca. 6.8 x 4.5")
$ 80.00 (Discounted at 40% = $ 48.00)
Order Nr. CARICATURE255979