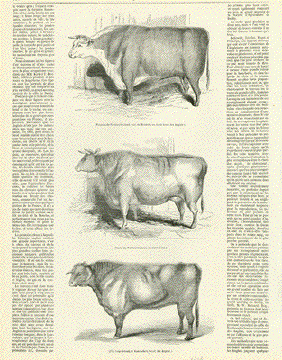 "Taureau du Northcumberland, race de Holstein, ou Dutch breed des Anglais"
"Vache de Northcumberland, ou Dutch breed"
The Long-horned or Lancasshire breed, des Anglais.
*************
Second page: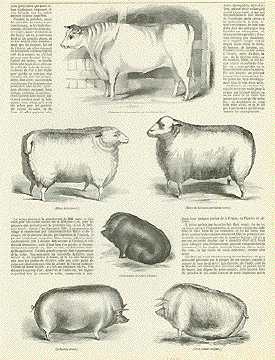 "Taureau a cornes courtes, ou short horned bull"
"Belier de Leicester. Belier de Leicaster, portant sa toison"
"Cochon nain du comte d'Essex"
"La Cochon croise. Trule croisee anglais"
Two pages with wood engravings and article published 1844. On the reverse sides is
text about the various breeds of farm animals..
Page size: 33 x 24 cm ( 12.9 x 9.4 ")
Price for the two pages: $ 55.00
Order Nr. COW248775