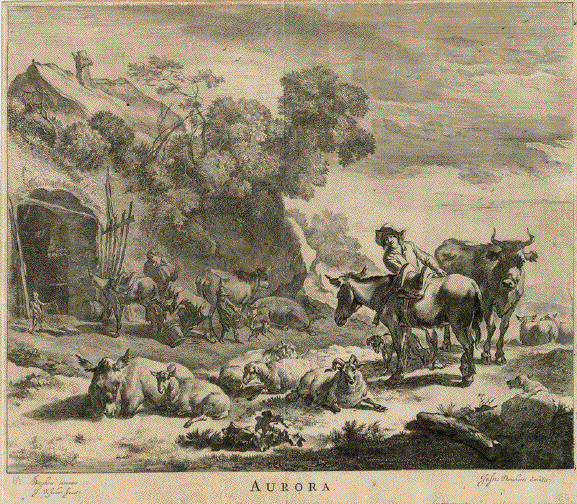 "Aurora"
Drawing by: Nicolaas Berghem (Berchem) - (1620-1683)
Engravers:
Claes Janzoon Visscher II. (1586-1652) and Justus Danckerts (1635-1701)
Amsterdam, ca. 1660/70
The first state of this engraving was done by Visscher ca. 1650. In this second state Justus Danckerts obviously gave it finishing touches and engraved his own name in the plate as the artist who executed these finishing touches.
While Visscher and Danckerts both belong to family clans who were cartographers and publishers of maps and atlases in Amsterdam, the scene here is typical of Berghems pastoral scenes he so much liked depicting. Berghem's curriculum is not very well documented. But it seems that he spent time in Italy, an assumption well founded by the landscapes he painted and drew. The possible time period most likely for a journey to Italy is expected to be 1642/43. This would fit the drawing for the etching here offered, when compared with the life periods of the artists signatures.
It's a lovely pastoral scene. Aurora = sunrise = early morning. The departure of a shepherd party. One of them ready to mount his mule, the other fixing the hoof of another mule. Wife, a baby in her arms, watching, a toddler playing, a bigger child helping to load. The herd, cows, sheep a donkey) is still resting, waiting for the call.
A classical Berghem etching, well designed and balanced showing the activities at the break of another work day of shepherd life.
The print has centerfold. It is cut to borderline and mounted on heavy woven paper.
The impression is very good. Due to mounting the print there are some creases along centerfold and in the sky.
Minor repairs and signs of age.
32,5 x 36,8 cm (ca. 12.8 x 14.5")
$ 360.00
Order Nr.OLDMASTER242708