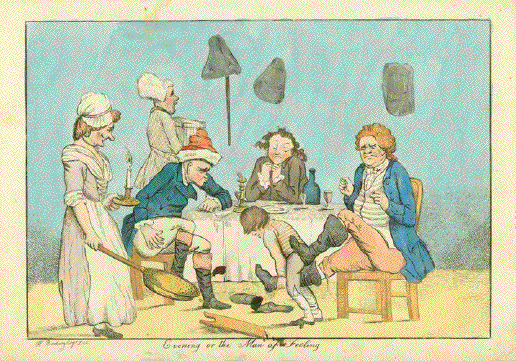 "Evening, or the Man of feeling."
Description
Three men sit by a dinner-table. The man on the right has his boots pulled off by a boy. The man makes an impatient impression and pushes his other booted foot against the boy's back; on the floor are a pair of slippers, and a boot-jack. It looks as if the other two men had long been waiting for the just arrived companion, who has obviously cold feet, because a maid with a candle in hand brings him a warming pan.
Hand-colored copper etching by Henry William Bunbury (1750-1811)
Second edition. London ca. 1820
The original edition (1781) was round and reversed.
A little soiled in margins. Print spills at printing time on table cloth, slippers and title.
22,2 x 32,7 cm (ca. 8.7 x 12.9")
$ 90.00 (Please look for discount at top of this page)
Order Nr.GASTRONOMY252994