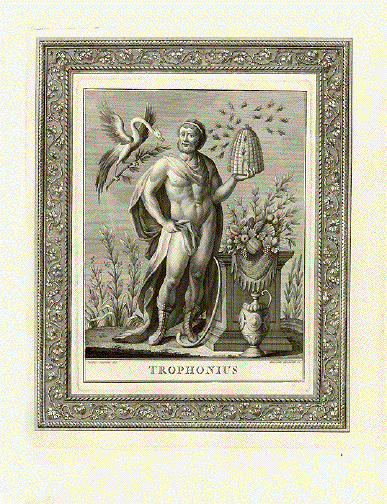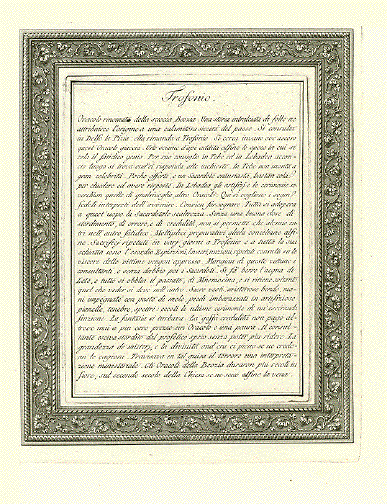 Livadeia"Trophonius"
Copper etching by Innocente Alessandri
After the drawing by Jacopo Guarana (1720-1808)
Published in "Oraculi, auguri,auspice, sibille, indovina della regione pagana"
Venice, 1792
Livadeia is the capital of the Greek region of Boeotia.Trophonius, in Greek mythology, was the son of Erginus. According to Homer he and his brother Agamedes built the Apollo-Temple at the oracle at Delphi. The oracle told them they could wish for anything they wanted. But on the seventh day after accomplishing the Apollo-Temple they were found dead, which is the origin of the saying: "whom the Gods love die young".
Another story told by Pausanias in "Description of Greece" is the following: Trophonius and his brother Agamedes stole and hid the treasure of Hyreios in a secret underground cave at Livadeia with a secret entrance….. This cave was not discovered until the city suffered a plague. The people consulted the oracle at Delphi. Pythia advised them to find the cave, and a shepherd boy followed a trail of bees that led to the cave.
That is why Trophonius is so beautifully connected with bees and bee-keeping.
The copper etching is in the finest of condition including the text page in Italian.
Image: 31,5 x 25,2 cm (ca. 12.4 x 9.9")
Sheet size including image and text page: 48,2 x 69 cm (ca. 19 x 27.2")
Order Nr. GREECE240743SOLD